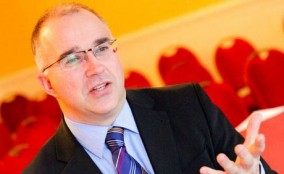 The Mansbridge & Balment team has been back to the classroom to get the inside knowledge on the industry from one of the UK's leading estate agency trainers.
Staff were at Moorland Garden Hotel near Yelverton on Wednesday, 19 March to hear Richard Rawlings of Estate Agency Insight, who is widely regarded as the country's leading authority in contemporary estate agency method and marketing.
And they were delighted to discover that the methods and practices the agency has put in place recently are helping to keep Mansbridge & Balment ahead of the field.
"It was great to hear first-hand from an award winning estate agency trainer how what we have implemented in the last few months will prove to make a real difference to the general public and keep us at the forefront of the market," Chris Mervyn, Valuation & Brand Manager for Mansbridge & Balment.
"There was a lot of information to take in, but both those new to estate agency, and more experienced staff members, will have taken away some key points to help them improve."
The event was part of a regular series of staff training sessions booked throughout the year, to keep the company focused on offering the very best training for its staff, ensuring that its professional and ethical standards remain high.
During the evening event Richard – who has clients from across the UK, as well as throughout the world – talked to the Mansbridge & Balment staff about the importance of making the service individual and tailored to the customer's needs, as well as going above and beyond in its delivery to create a lasting impression.
He also talked about the key reasons as to why people choose Mansbridge & Balment and the power of the staff to the company's continued success in terms of their longevity to the business and their experience of the local marketplace.
Propertydrum Estate Agency Trainer of the Year, Richard is renowned for getting to the heart of industry issues and focuses particularly on helping businesses to secure market share and increase profits.
He is regarded as a highly motivational and inspirational speaker and works with estate agency companies of all shapes and sizes to help them get more out of their staff and their businesses, as well as how to utilise marketing channels more effectively.