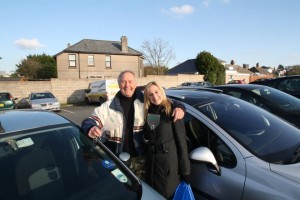 As the temperatures drop around Plymstock and the South Hams the local estate agent took it upon themselves to have their own branded ice scrapers made for the cold snap.
On Friday 3rd February when the temperatures dropped to minus 4.5 the staff at Lang & Co delivered 500 ice scrapers onto the wind screens of parked cars and given to people at the Broadway Shopping Centre in Plymstock to help 'get them moving' in the cold mornings ahead.
Lang & Co were really pleased when members of the public called their office to thank them for their kind gesture and had received a lot of compliments on and around the Broadway Shopping Centre to say what a big help the ice scrapers will be to them.
Lang & Co take pride in their local community and in the past have sponsored a number of schools and local charities including St Luke's Hospice and saw the opportunity to provide the ice scrapers to local residents as their further ongoing commitment to the community. If you would like to view further details of some of their past sponsorship and support that they have provided, you can visit their website at www.lang.co.uk .