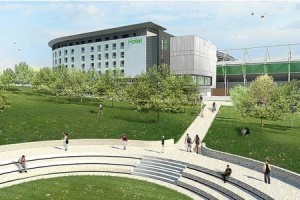 Councillors today give the go ahead for The ambitious proposal from Argyle owner James Brent's Akkeron Group is to redevelop Argyle's Mayflower stand and build an ice rink, hotel, cinema and shops.
Martin Starnes, chief executive of Plymouth Argyle, said before the decision: "We're all hoping there's going to be a positive outcome from today's planning meeting because it's extremely important for the future of the football club.
"We want to get on with a development which will mean increased revenues and better facilities for our supporters and for the city of Plymouth.
"The better facilities you can offer, the easier it is to attract both players and supporters.
"I am of the opinion that a football club, football being the biggest spectator sport in the country, should be at the hub of sporting facilities."