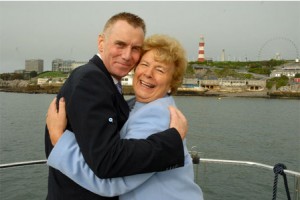 Chef, restaurateur, celebrity and author Gary Rhodes is to turn Plymouth's disused waterfront Dome into a multi-million-pound restaurant, creating 50 jobs.
It will be called Rhodes West, the brasserie, bar and events suite is due to open next summer after being leased from Plymouth City Council.
There's been a great deal of speculation recently over the potential of the Dome and another top chef investing in the City of Plymouth show's what great potential it has. There's also talk of him setting up a cookery school, which is still in the "concept stage".
As we seem to be starting to come out of this hard period, with restaurants like the Barbican Kitchen, Bistro One and Tanners being very busy on a regular basis, it seems that a slightly different twist on "classic" recipes alongside "unique" dishes, and use of locally-sourced food could complement the quality that already exists in Plymouth.
Gary did mention that he would be in Plymouth on a regular basis as we go through the build and the fit-out programme and start to build our kitchen and front-of-house teams."
Cllr Vivien Pengelly, leader of Plymouth City Council, said Rhodes West "is exactly the sort of venture we wanted to see in the Dome. It is a key location overlooking our amazing waterfront".
Sarah O'Leary, Plymouth Waterfront Manager, said: "Rhodes West will be a huge boost for the waterfront."