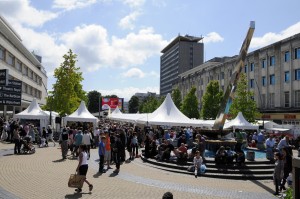 A fabulous brand new fashion, home and lifestyle event is set to take Plymouth by storm next week.
Lifestyle Plymouth will be a three-day extravaganza, taking place from Friday 2nd to Sunday 4th September, with a programme packed full of shows and demonstrations from leading industry experts.
The event will be held in a marquee on the Plymouth City Centre Piazza, where members of the public will be able to come and find out everything they could ever need to know about fashion, beauty, health and home decorating.
The main stage will play host to a wide range of demonstrations and shows, including hair and beauty tutorials, fashion shows, dance performances, home decorating presentations and much more.
As well as experts from big name brands such as Clinique, Sony, B&Q, Debenhams and Lush taking to the stage, the marquee will also feature stalls from some of the city's top retailers as well as a big screen to watch all the action on.
Saturday night at Lifestyle Plymouth will be Ladies night, when the women of Plymouth will be entertained with beauty demonstrations, a La Senza fashion show featuring the Plymouth Calendar Girls and a cocktail demonstration and tasting session courtesy of Blush Lounge.
Clint Jones, Plymouth City Centre Manager said: "We've had great success in previous years with our fashion and beauty event, Style Plymouth, but this year we wanted to expand to encompass home and lifestyle as well, so there really will be something for everyone. The whole event is completely free and we can guarantee that everyone who comes will walk away having learnt something new – what better way to spend a weekend?"
Highlights of Lifestyle Plymouth will include:
Friday 2nd September
Forever Living  – Aloe Vera products presentation.
Revive Beauty – Younger looking skin, the easy way.
Street Factory – Dance performance
Havannas Specialist Clinic – Scars and Skin Camouflage
Debenhams Beauty Tutorial: Benefit Cosmetics
Lush – Skin Care Demonstration
House of Fraser – Clinique Anti Aging Skin Care
Saturday 3rd September
Teach Old Clothes New Looks by Jessie Coffey
High Street Fashion Show
Debenhams Personal Shopper presentation
Debenhams Kalmora Spa demonstration
La Senza Fashion Show featuring Plymouth Calendar Girls
The Blush Lounge cocktail mixing and taster presentation
Mr. Buns Cupcake Decorating Competition
Prize draw and Finish
Sun 4th September
On stage décor – Inspired Rooms
The Sony Home Experience – The Sony Centre
B&Q – How to purchase your new kitchen, bathroom and bedroom