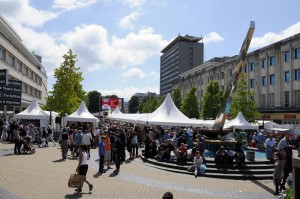 Flavour Fest, the South West's premier food festival is back for 2011, taking over Plymouth City Centre from 19-21 August. 
Now in its 8th year, Flavour Fest has grown to become one of the largest and most successful food festivals in the South West. One of the highlights in Plymouth's events calendar, the free entry event regularly attracts more than 150,000 visitors to the city. 
Amanda Bishop, Events Coordinator for Plymouth City Centre Company has been in charge of Flavour Fest since 2009, she said: "The great thing about Flavour Fest is that its energy is contagious. If you're in Plymouth when it's on you just can't help but get involved." The sights, sounds and smells of Flavour Fest carry to every corner of the city centre drawing crowds hungry to experience the fabulous food and drink on display.
"Flavour Fest now takes over the whole of the Piazza, transforming the space into a bustling, Continental-style market" said Amanda "and this year is bigger and better than ever before, so we're also using Sundial Square and Place De Brest on Armada Way." 
All the favourites are back for this year, along with some new elements to whet the appetite and spark the culinary imagination.  
The Food Market
Over 120 local food producers and traders from across the South West will set up shop on Plymouth's Piazza, selling the very best of regional produce.
You can expect everything from fantastic fruit and veg to outstanding organic meat and everything in between including home baked cakes, artisan bread and pastries, preserves, chutneys, cheeses, beers and wines plus much more. At Flavour Fest you can always try before you buy, so come hungry and ready to sample! 
The Cookery Theatre
Celebrity chefs stand shoulder to shoulder with the best of regional culinary talent on the stage of Flavour Fest's Cookery Theatre, with a full programme of demonstrations over the three day festival.
Already confirmed are local lads turned celebrity chefs James and Chris Tanner and Master Chef of Great Britain Peter Gorton along with Richard Hunt from The Grand in Torquay, Matt Corner from The View at Whitsand Bay, Richard Valder from Angela's Restaurant in Exeter, Nick Barclay from The Blue Plate in Looe and Neil Haydock from Watergate Bay's Hotel and Extreme Academy.
Plus, it wouldn't be Flavour Fest without our annual Ready Steady Cook competition which this year sees BBC Radio Devon's Gordon Sparks take on BBC science expert and Tomorrow's World presenter Adam Hart-Davis, who with the help of a couple of our celebrity chefs will battle it out for the 2011 crown. 
The Food is Fun Pavilion
Sponsored by Castles Kitchens, the Food is Fun Pavilion is designed to get young people cooking from an early age. Face painting and refreshments will jostle with colouring, bread making and other activities to encourage kids to take an interest in what they eat and understand what goes into their food.
Slow Food UK will be running a Taste Adventure and there will be demos, especially tailored for young people, from some of the region's best chefs.
The Cocktail Marquee
New for this year, the Cocktail Marquee will play host to some of the region's best mixers and shakers with demos from the best mixologists in the south west, a series of talks on contemporary cocktail making and interactive sessions where you can have a go at mixing your own drink.
Flavour Fest runs from Friday 19th until Sunday 21'st August in Plymouth City Centre
Find Details, travel information and the programme of demos and activities online at:
www.plymouthcitycentre.co.uk/flavourfest 
Twitter @flavourfestsw