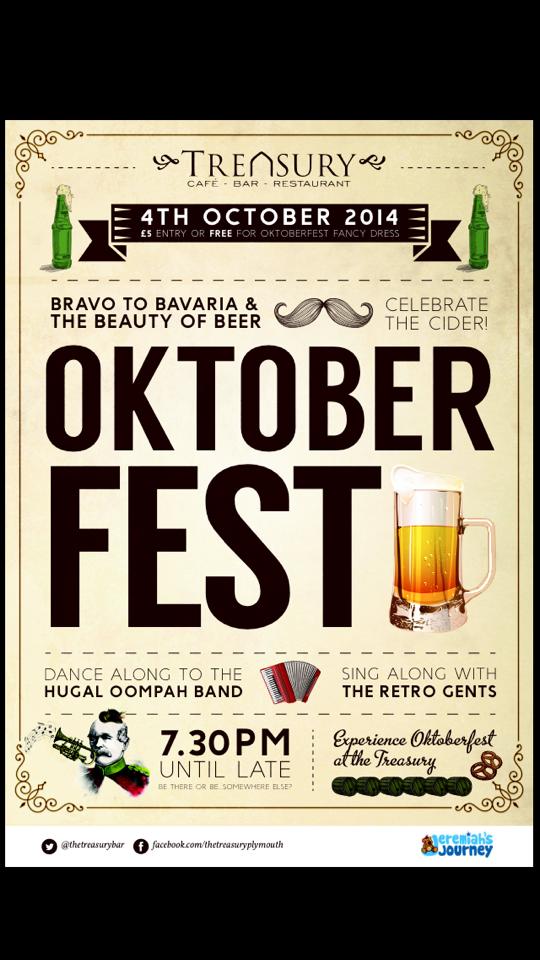 If you have even the faintest interest in beer, you'll know that brew lovers from around the world gather each year in Munich, Germany to celebrate Oktoberfest. The 16-day drink fest that runs through Oct. 5 serves only beers that conform to German purity regulations (the Reinheitsgebot) and which are brewed within the city limits of Munich.
If you aren't lucky enough to make it to the Bavarian capital, don't worry, The Treasury in Plymouth will be putting on Oktoberfest on Saturday 4th October from 7pm Black Friday & Retro Gents plus authentic Bavarian band the Hugaal Oompahs!
Some more interesting facts about Oktoberfest to get you in the spirit.
1) Wish Oktoberfest 2014 a very happy 204th birthday. In 1810, the very first Oktoberfest took place in Munich, Germany to honor Bavarian Crown Prince Ludwig's marriage. Today, the 16-day beer festival is still going strong.
2) If you're wondering how much beer is consumed by the 6 million people that go to Oktoberfest each year –it's a lot. To be precise, it's 1.8 million gallons of beer. That's like filling the legendary King's Pond pool at the Four Seasons Resort Hualalai in Hawaii with brew.
3) This year, 48,000 members of the baker's union threatened to strike, inciting fear of a possible pretzel shortage, or as you say in Munich, Riesnbrezn shortage. In the end, the bakers chose to respect the Oktoberfest tradition and are keeping the pretzels flowing.
4) In an effort to keep festival attendees as safe, the Red Cross has set up 15 hangover beds for people, in case they need to sleep off the booze for a while. That doesn't seem like a lot for the more than 7,000 people that come to the Red Cross tent for treatment each year, but I guess it's better than none. They've also got spare pants, too, just in case you need those too.
5) Each year, over 4,000 items end up in the Oktoberfest lost and found. The weirdest from 2013 was a set of dentures.
6) Beer prices differ in the various tents at Oktoberfest, but a traditional stein, which is slightly less than 34 ounces, will cost you about $13.
7) At Oktoberfest, there's a lot of standing, as there are fewer seats than there are visitors. The largest Oktoberfest beer tent of all time was the Pschorr-Brau-Rosl-tent in 1913, which held 12,000 people. Today, the Hofbrau-Festhalle is the largest tent, with 10,000 seats. But you better get there early.
8) There is a variety of traditional, hearty fare to be had at Oktoberfest. Offerings include Hendl (roast chicken), Schweinsbraten (roast pork), Haxn (pork knuckle), Steckerlfisch (grilled fish on a stick), Wurstl (sausages), Brezn (pretzel), Knodeln (potato or bread dumplings), Kaasspotzn (cheese noodles), Reiberdatschi (potato pancakes), Sauerkraut or Rotkraut (pickled red cabbage), Obatzda (a fatty, spiced cheese-butter concoction), and Weisswurst (white sausage). So dig in!