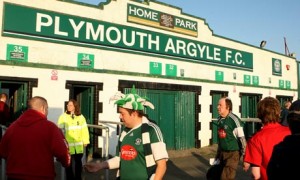 Plymouth have secured the funds to avoid a winding-up order, according to the club's administrator.

The npower League Two club appointed the P&A Partnership as administrators back in March and have since been the subject of numerous failed takeover bids.

But it was confirmed today that Bishop International Limited were close to finalising a deal which would save Argyle. Which has come as a huge relief to the City of Plymouth which has recently lost it's battle to keep it's airport open and supporters of the club maintained positive by camping overnight at the stadium to show their support.
A statement on the club's website said: 'The joint administrators of Plymouth Argyle Football Company Limited (in administration) are satisfied that Bishop International Limited has secured the necessary funding and everything is agreed between the numerous parties.'

Administrator Brendan Guilfoyle added: 'This has been a complex deal involving a dozen stakeholders. I am very grateful for the assistance I have received from everyone involved in the sale.

'I can now look forward to the new club obtaining the share from the Football League and retaining their status as a Football League member club.'

The Football League now have to confirm the takeover.