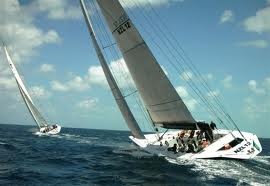 The organisers of the Americas Cup World Series have been delighted with the recent amazing response of the Plymouth public and organisers. Bearing in mind it has been speculated when the Americas Cup first contacted Plymouth, we didn't pick up the phone and forgot to call them back, however the success was for all to see.
An estimated 100,000 people watched a series of thrilling races on Plymouth Sound between nine high-tech catamarans racing at speeds of 30mph plus. The ORACLE Racing Spithill's Fleet Racing Championship win punctuated by capsizes and collisions have made this one of the most exciting races.
"Of course we want to come back to Plymouth," America's Cup boss Richard Worth said at the end of the nine-day sailing extravaganza.
"The city has exceeded our expectations in terms of the way it has been organised, the number of visitors and the quality of the racing. We have had a great welcome and people have taken real pleasure in the event. There is no reason why you wouldn't say, 'Plymouth was great, let's go back'.
"But in the end it comes down to the nasty business of money."
He said that "more than a handful" of Plymouth people had asked him, "How do we make this come back to the city?"
"The answer is, Plymouth would need to find millions of pounds – but the return on that would be many times more. What it costs us to stage the event runs into the millions. If we are going to break even we're going to need to find a way to create a commercial model that generates millions. We could ask the council to pay up, or work with local businesses."
Despite everyone getting excited, its not just whether they want to come back it's also if it makes financial sense, to bring them back. It's ok the Council and local businesses saying it's great for the city but you don't get businessmen like the Owner of the Range retail outlet and recent E&Y Entrepreneur of the year for London and the South-West, Chris Dawson making decisions just because it sounds fantastic and that's why I believe there has to be more scrutiny in making these decisions. Consultations with individuals like him and other successful entrepreneurs need to be considered to maximise the potential of these events, they also want Plymouth to succeed.
It's also something to consider saying we had 100,000 people watching the America's Cup but that was an opportunity to upsell all that Plymouth has to offer. Notwithstanding it has definately created a buzz and it has concentrated on Plymouth's key assets which is normally not the case.
Plymouth University is now set to carry out a study of the economic benefit to the city. Mr Worth said: "It would be a surprise if it was not £10million or more. It has clearly driven up visitor numbers and there are a lot of benefits to the city.
But he did stipulate that Plymouth was in competition with a number of other cities, "It's a world series, so it has to go around the world, and the world is a big place."
Other English cities including Southampton, Portsmouth and Liverpool as well as Cowes on the Isle of Wight could be considered. However it's more likely that other Asian cities will fight for access to the World Series, which started in Cascais, Portugal before coming to Plymouth, which now heads to San Diego in November.
"We are talking to venues in China, the Middle East and Cape Town in South Africa," he said.
"Plymouth took a real risk by welcoming a new sports property to town before anybody really knew what it was.
"There is no question: Plymouth has helped us to market it. And it's a two-way street: let's hope we've helped to market Plymouth."
Plymouth brought a number of challenges to the sailors including sporadic weather and tough sea conditions, which tested the teams to their maximium.
"It has surprised a few people that Plymouth has been able to offer such a range of weather conditions," Mr Worth said.
"Everyone has been pleased. It isn't St Tropez, but would St Tropez see 15,000 or 20,000 people out to watch the sailing?
"My view is that sailors need to be tested, and not just in weather that's nice and warm and sunny.
"Plymouth has given us a bit of pretty much every kind of weather. Nobody wants to see injuries or damage, but you want to see excitement.
"There have been a lot of challenges for the crews in the way the events have unfolded. Teams like China had to make emergency repairs they would have preferred not to have to deal with. But that's life, and you get the same sort of thing in Formula One racing."
He first visited Plymouth in March this year with a view of introducing a sailing event.
"Standing by Smeaton's Tower on the Hoe was enough to convince me that if we were lucky with the weather it would provide a spectacular event.
"We had to reassure the race organisers that it would be OK, and definitely Plymouth has delivered what I expected.
"Plymouth offers just about everything you need, albeit it's a long way from London. People have to make a conscious decision to travel here.
"The majority of people who have made the effort have been pleasantly surprised."
"We have a lot of international guests in the city, so that kind of proves the point."
Plymouth had a number of interesting visitors to the event which included Prince Michael of Kent who was a surprise visitor.
"The Royal visit this week was special. It demonstrates the interest in the event," Mr Worth said.
When finally asked about the reactions from the teams, he said: "You can describe it in one way – the way they say 'Plymouth'. Before we came here it used to have a question mark after it, 'Plymouth?', but they've dropped the question mark. The city has proved itself."