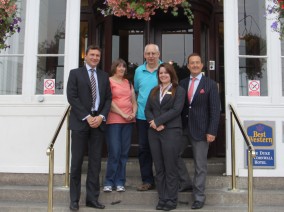 Retired couple Bobby and Susan Short's move to their dream bungalow turned into a nightmare when an eleventh hour administrative error left them with nowhere to go.
With their entire furniture and belongings in the back of a removal van Bobby and Susan, both 65, were distraught when they vacated their property in St Judes, Plymouth only to be told they couldn't move into their new home.
But estate agent boss Darren Lawson of Mansbridge Balment saved the day with the help of some professional colleagues in Plymouth – organising a three night stay in the city's Duke of Cornwall hotel for the delighted couple.
He rang the hotel director Jonathon Morcom to see if they could come to the aid of Bobby and Susan and even though the only room they had left was a four poster suite, they were prepared to offer it at a very generous discount.
Darren then rang local solicitors Thompson and Jackson who were involved in the couple's sale. He asked them if they would like to share the cost of the room with him – and company partner, Neil Keatt was more than happy to oblige.
"When Darren rang me to say we were staying in the Duke of Cornwall, I couldn't believe it. I thought it would be little hotel or a B&B," said Bobby, a retired railway maintenance technician.
"We were in our old house in just the clothes we stood up in when we got the call to say we couldn't move into our new home. We literally had nowhere to go. Darren was an absolute gem though, the removal guys told us he was constantly on the phone trying to sort out the problem and kept in touch with us the whole time too."
Bobby and Susan were among purchasers moving into the first three bungalows to be sold at the brand new Lamellion Court Later Living development for the over 55s in Liskeard, Cornwall on Friday July 11th.
"The first two sales went through fine, but there was an administrative problem further down the chain in Bobby and Susan's sale and, as the hours ticked by, it became apparent that the sale wasn't going to go through before the weekend," said Darren.
"Both the Duke of Cornwall Hotel and Thompson and Jackson were fantastic. It was a real team effort from three great local businesses and meant that what was a very distressing and upsetting situation for the Shorts ended happily with a successful move to their dream home."
The couple arrived at the hotel to find a bottle of wine in their room and they were also treated to dinner in the restaurant. The sale finally went through the following Monday enabling them to finally complete their move.
"We are so happy to be in our home finally and I cannot thank Darren enough. He went way above and beyond and all the team at Mansbridge Balment were great, nothing was too much trouble," added Bobby.